KMTR-ANTI PLASTIC CAMPAIGN 2008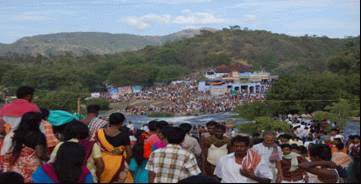 Kalakad-Mundanthurai Tiger Reserve (KMTR), located in the Agasthyamalai mountain range of the Western Ghats, is the southernmost habitat of the Indian tiger and is known for its high biodiversity and endemism, and enclaves of cultural and religious heritage. Prominent among them is the Sorimuthaiyan temple that attracts around 400,000 people during `Aaddi Amavasai' festival every year. The temple belongs to erstwhile Singampatti Zameen, a village on the edge of the reserve.

The huge influx of people (both transient and campers) during the festival can have direct and indirect impacts on the forest. ATREE, which has long term presence and stake in biodiversity conservation of KMTR, along with the Tamil Nadu Forest Department, has been actively campaigning to reduce plastic use in the reserve and monitor the impacts of such large congregation of people inside the forest for the last 3 years.

Last year we were able to influence the district administration to impose a ban on the use of disposable plastic in the reserve. This year a team of members from ATREE and volunteers from colleges in Tamil Nadu were involved at various stages of the campaign.

We adopted a multipronged approach for the campaign. They were:
Fund Raising: It included putting up of sales cum awareness stalls in a popular mall in Bangalore. We received support from Wildlife Trust of India, Rotary and Lions Club and help from the Forest Department.
Outreach and Awareness: Various activities were done to highlight the hazards of polythene and create awareness and appreciation of the biodiversity in KMTR, including street plays and cultural activities (with the help of Arumbagal Trust, a local NGO), talks in schools, colleges, processions, TV and radio shows.
Scientific Monitoring of Impacts: We closely monitored various components of the forest ecosystem around the temple to get an idea about the extent of impacts due to the festival.
Understanding the socio-cultural issues and ethos of the festival: We carried out an extensive social survey to assess people's perception on biodiversity and its conservation and to understand the intricate socio-cultural values and ethos associated with the festival.
Direct action oriented activities during the festival: We did various activities such as display of banners and posters with relevant messages and placing bins at various points. 500 volunteers from schools and colleges helped the Forest Department in collecting plastic packets and replacing them with cloth bags and also took out an awareness procession.
There were some visible positive impacts of our previous campaigns, indicated by the fewer polythene items we collected. Encouraged by the success from our previous campaigns and based on our recent findings we will plan our next move to realize the goal of a clean and plastic free KMTR.

FROM THE GROUND UP

(An article excerpted from The Stanford Social Innovation Review)

The following article, featuring ATREE, written by Brandon Keim, has appeared in the summer 2008 edition of the Stanford Social Innovation Review. This can be viewed online at - http://www.ssireview.org/

ATREE crossed sectors to breed a new species of conservation agency by Brandon Keim

The Western Ghats, a mountain range running 1,000 miles down the western coast of India, is one of the world's natural treasures. With rain forests, dry forests, swamps, and rivers, the range is home to 1,600 flowering plants found nowhere else on the planet, as well as to scores of endangered animals, including tigers and elephants. No less important, millions of people live in the Ghats, and many of their livelihoods are intertwined with the region's natural bounty.

But in 1993, when botanist Kamal Bawa received a World Wildlife Fund grant to help the Soligas, an indigenous tribe living in the Ghats and dependent on forest products, he found a region devastated by deforestation and misuse. In the developed world, fragile ecosystems often enjoy ample research describing them, organizations attempting to preserve them, and policies protecting them. But all Bawa saw in the Ghats was a patchwork of government protections that amounted to little more than a conservation Band-Aid. Most of the existing research was irrelevant to the Ghats' problems or didn't link to government policies. NGOs tried to help, but they invariably overlooked the social and economic aspects of conservation.

Meanwhile, the Ghats faced pressures from mining, dam building, and development. Population growth threatened protected areas, and relations had broken down between communities and government. Solving these problems "would require a long time and a wide perspective, and therefore an institution that was solely committed to addressing [them]," says Bawa, who is now a biology professor at the University of Massachusetts Boston.

In 1996, Bawa founded just that kind of institution: the Ashoka Trust for Research in Ecology and the Environment (ATREE; no relation to Ashoka, the organization that supports social entrepreneurship). Part academic institution, part activist group, part think tank, ATREE reaches across sectors to give India-as well as the rest of the world-something it never had: an environmental organization that combines natural and social sciences, conducts research on conservation and sustainable development, trains scientists, works with local communities to implement best practices, and advocates for evidence-based environmental policy. What started out as a four-person organization has since grown into the crown jewel of Indian conservation, employing 140 people and training scores of Indian scientists at four centers.

Pure Application
In academics, India is best known for sophistication in the physical sciences. The nation has yet to embrace conservation biology. It also hasn't developed the web of institutions needed to translate evidence into action.

Academic institutions in wealthier countries, in contrast, exist in a mesh of nonprofits, government agencies, and other organizations that put scientific insight into practice, wrote Bawa and his colleagues in the Jan. 11, 2008, Science. Universities are also free to pursue knowledge without concerning themselves with its application. But as India struggles to balance environmental health with the demands of a billion people, pressing problems demand practical research. "The alleviation of poverty and environmental sustainability should be explicit goals for which knowledge must be generated," wrote Bawa.

Enter ATREE, which is made up of three departments: a center for conservation science that drives pure research; an eco-informatics center that disseminates knowledge; and a center for governance and policy that turns research into practical prescriptions. People move between the groups, and programs draw from all three. "ATREE is like a university department of ecology, of which there aren't very many in India," says John Vandermeer, a University of Michigan tropical ecologist who visited the organization last year. "Eventually ATREE will be viewed as a pioneer." Since its inception, ATREE has produced hundreds of scientific articles chronicling the natural dynamics of the Western Ghats and other threatened regions. It is also one of the first organizations to link biodiversity to human well-being.

For example, ATREE scientists discovered that the timber species the Soligas people use for their crafts could not grow fast enough to replenish themselves. As a result, the organization convinced tribal groups to use lantana, a fast-growing invasive species, rather than the slow-growing native timber. Likewise, the organization teaches hillside farmers to plant crops in rows that run with the contours of the land-a practice that prevents erosion and saves water-and introduced soil-friendly crops.

"It's research combined with action," says Bawa. "We identified a biological problem, its social and economic aspects, and the action needed to address that problem."

With the People, for the People
Connecting ecology to the lives of inhabitants, as ATREE does, rarely happens in traditional academic departments. "[ATREE staff are] very happy to work with local people, not against them, and that's very important," says David Ehrenfeld, founding editor of the journal Conservation Biology.

ATREE's most lasting contributions, however, may go beyond the outcomes of specific projects. When Bawa founded the organization, India lacked qualified personnel. Citizens interested in conservation biology went elsewhere to study or pursued other types of research. Instead of importing scientists, ATREE trains its own-more than 100 so far, all with a stake in and sensitivity to local issues.

"It's not like that in many countries, where you don't have enough local scientists with the appropriate training," says Nina Marshall, a program officer at Conservation International, which recently started working with ATREE in the eastern Himalayas. "It's easy to hire scientists from the U.S. and Europe. My organization, and ATREE as well, feel that this is not the best strategy."

The range of expertise and local knowledge has made ATREE a vital source of information for India's government and an ideal partner for international conservation groups. "It's a great thing to work with organizations that have an ability to see the big picture," says Marshall. "They can do so many aspects of what we're all trying to achieve. It's rare to have both the skills and the vision."

To Grow ATREE
ATREE has enjoyed policy and practice victories as well. The organization successfully pushed for a ban on mining in India's national parks. It also drove a prohibition against using plastic in the Kalakkad Mundanthurai Tiger Reserve.

But on other fronts, ATREE's results have been mixed. It has reformed some farming and forestry practices in the Western Ghats, but not to the extent that Bawa had hoped. And although ATREE has produced a vast body of literature and recommended policies, the Indian government has not yet fully implemented them.

ATREE's job is to show what can and should be done, and so it still relies on government agencies, communities, and other nonprofits to carry out its recommendations. That multi-stakeholder approach is part of the organization's ethos, but it is necessarily limited. An ongoing project in the development-threatened Vembanad Lake region has provoked soul-searching over whether ATREE should be more active in implementing its own advice. "I don't think we've resolved that issue," says Bawa. "There's a fear that it would fundamentally change who we are. I personally would favor more action-oriented programs, but that would require far more resources, and also a different type of thinking. And it would not be in the interest of ATREE to push for that at the moment."

Funding ATREE can also be tricky. International foundations, local foundations, government, and expatriates provide ATREE's $1 million annual budget. Bawa points out, however, that foundations often pursue narrowly focused projects, rather than building infrastructure. "There are easily 15 or 20 foundations internationally active in India," says Bawa, "but [the Ford Foundation] is the only one giving support for institutional grants, not just project grants."

Despite these struggles, ATREE has inspired other countries with environmental problems, a shortage of homegrown researchers, and a dearth of NGOs. "The ATREE model with modifications to suit the local context is replicable," wrote Bawa in an e-mail. "When I talk about ATREE, people from other countries often come and ask me how they can have an ATREE unit in their countries."

NEW STAFF

Dr. Bhaskar Acharya, Coordinator, CEPF Western Ghats RIT. Bhaskar comes with a M.Sc. in Wildlife Science and a Ph.D. studying dholes. He is based in the Bangalore office.

Dwaipayan Banerjee, Coordinator for the fire project, "Forest fire management in India. Integrating ecological and cultural contexts and consequences," in the Delhi office. He has a Master's degree in Forestry.

K.A.Kishore, Research Assistant, Vembanad Conservation Program of ATREE, Alleppy office. He will help the Vembanad team with Jaladarpanam programme and also will be coordinating insect sampling for the WGII programme. His area of specialization is ornithology and nature conservation.

Krishna Kumar, Consultant, Vembanad Conservation Program of ATREE, Alleppy office. He has an M.Sc in Applied Fisheries and Aquaculture. He has previously worked on Exotic fishes in Vembanad Lake and their interaction with native species.

Prashanth M.B has joined the KMTR team at ATREE and is based at the Bangalore office. He has a degree in Electrical and Electronics Engineering.

Raghu, Office Assistant, ATREE Bangalore office. He has completed his PUC.

Rashmi M.K, Research Associate, Eco-Informatics Centre, Bangalore. She has a Master's degree in Environmental Science.

T. M Santosh Kumar, Research Assistant, ATREE Kanakapura team as a. He has a Master's degree in Environmental Science.

Vasanth Kumar has joined the Insect Taxonomy and Conservation Lab at the Bangalore office. He has a Master's in Zoology from Bharathiar University, Coimbatore.

Interns

Liza Pinto, who has a Master's degree in Environmental Science, is assisting the Director - Projects & Administration in general institutional work, and specifically in the recycling and safe disposal systems of the new ATREE building at Amrutahalli.

Palashi Goswamy who has completed MSc in Marine Food Technology, is working on the UNDP Tsunami project.

Palvi Korgaonkar who has completed a BSc in Life Sciences, is working on data on gap disturbance and tree diversity in a closed-canopy tropical forest in Barro Colorado Island, Panama.

TALKS AT ATREE

Dr. R.Ganesan gave a talk on 'Cultural Impacts on Ecosystems in Kalakad Mundanthurai Tiger Reserve (KMTR) -ATREE's Campaign to Build Awareness and Form a Local Network of Conservation Action' on 23rd July 2008.

Other talks held

H.S Sudhira, 'Land Use and Transport Specialist' in the Directorate of Urban Land Transport, Govt. of Karnataka and Research Scholar at the Department of Management Studies and Centre for Sustainable Technologies, IISc, Bangalore, gave a talk on 'Understanding Urban Sprawl in Bangalore' on August 11th 2008.

PUBLICATIONS

The latest edition of Conservation and Society, a peer-reviewed interdisciplinary open access journal, dedicated to the advancement of the theory and practice of conservation, has been published. The online version will be available shortly.

H. Nagendra (2008). Do parks work? Impact of protected areas on land cover clearing. Ambio 37(5):330-337.

Kashyap, Sham N., and Seema Purushothaman. Conversion of agricultural land in Karnataka- a status paper. Bangalore: Sub-Group VI on Common Lands of the Committee on State Agrarian Relations and the Unfinished Task of Land Reforms, 2008.

Nikhil Lele and P.K. Joshi. Analyzing deforestation rates, spatial forest cover changes and identifying critical areas of forest cover changes in North-East India during 1972-1999. Environmental Monitoring and Assessment. DOI 10.1007/s10661-008-0472-6. http://www.springerlink.com/

Oommen, Meera Anna and Kartik Shanker. In press. Ecology and behaviour of an endemic treeshrew (Tupaia nicobarica Zelebor 1869) on Great Nicobar Island, India. Journal of the Bombay Natural History Society.

Gotor, E, A. Alercia, V. Ramanatha Rao, J. Watts and F. Caracciolo. 2008. The scientific information activity of Bioversity International: the Descriptor lists. Genetic Resources and Crop Evolution 55: 757-772

R. Kannan, G. Joseph and R. Uma Shaanker. Lantana furniture: Value added Lantana products to conserve bamboo and rattan. Published as a chapter in a book titled, 'Biodiversity Utilization and Conservation', edited by A.Arunachalam and K.Arunachalam, Aavishkar Publishers, Distributors, Jaipur, 2008. Page 60-64

R. Siddappa Setty, Kamal Bawa, Tamara Ticktin, and C. Made Gowda. 2008. Evaluation of a Participatory Resource Monitoring System for Non Timber Forest Products: the Case of Amla (Phyllanthus spp.) Fruit Harvest by Soligas in South India. Ecology and Society 13(2): 19. [online]URL: http://www.ecologyandsociety.org/vol13/ iss2/art19

Savitha, S., Narayani Barve, Priya Davidar. 2008. Response of ant diversity to disturbance gradient in and around Bangalore, India. Journal of Tropical Ecology, 49 (2).

Seema Purushothaman, Siddhartha Krishnan. 'Value of Deforestation?' Down to Earth magazine, August 11th, 2008.

Sharachchandra Lele, Sham N Kashyap, and Seema Purushothaman. Status paper on the Common Lands in Karnataka. Submitted to the Sub-Group VI on Common Lands of the Committee on State Agrarian Relations and the Unfinished Task of Land Reforms, 2008.

T.O. Sasidharan, O.K. Remadevi, R. Usharani, D.R. Priyadarsanan and N. Sapna Bai. Evaluation of cultural characteristics and pathogenicity of some isolates of Metarhizium anisopliae against teak defoliator, Hyblaea puera Cramer. Uttar Pradesh Journal of Zoology (in Press)

T.O. Sasidharan, O.K. Remadevi, A. Anitha Rani, Priyadarsanan Dharmarajan and Jayeetha Bhattacharya. New record of a microsporidian parasite from the teak defoliator, Hyblaea puera Cramer (Lepidoptera: Hyblaeidae). Hexapoda (in Press)

WORKSHOPS ORGANISED

Conservation Education Workshops at CCCs
Conservation Education workshops were held at various Community based Conservation Centres of ATREE. The objective of the workshops were to disseminate the importance of conservation education among teachers and students. The details of these workshops are as follows.

Kanakapura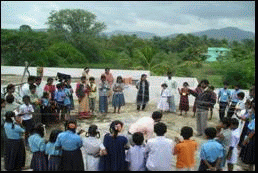 The Kanakapura team of ATREE conducted the workshop, 'Conservation Education at Kanakpura - a participatory assessment" at ATREE's Maralwadi field office in Kanakapura on July 26th, 2008. Fifteen school teachers and thirty five students from villages adjacent to forests of Maralwadi cluster participated in the workshop. The workshop was conducted by Sunitha Rao and A. Kavitha, along with the field staff.

MM Hills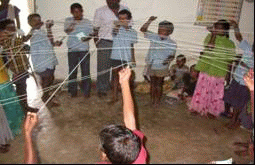 Members of the MM Hills team of ATREE conducted a workshop, 'Conservation Education for Schoolteachers and Children' at the Higher Primary School in the Gorasane village in MM Hills on September 8th 2008. Three teachers and sixty children from two schools attended the workshop. R.P Harisha, along with the field staff Madesha, and Ravi from ATREE, conducted the workshop.

KMTR
The KMTR team of ATREE conducted the workshop, 'Conservation Education at for Teachers" at Ambasamudram on September 9th, 2008. Twenty three school teachers from eleven schools participated. The workshop was conducted by Soubadra Devy, M. Mathivannan, R. Kottaimuthu, Merlin, Tamilazhagan and Piramuthu.

BRT Hills
The BRT team of ATREE conducted the Conservation Education workshop at BRT on July 29th, 2008. Five local teachers participated. Siddappa Setty, Minty Jain and Nagendra. P along with G. Nagesha from V.G.K.K conducted the workshop.

Eastern Himalayas CEPF Grantees Workshop
ATREE Eastern Himalayas Programme organized a workshop for CEPF grantees from North East India for stock-taking and understanding the role of traditional knowledge in CEPF supported projects, at Kalimpong on September 21st, 2008.

WORKSHOPS ATTENDED

H.C Chetana participated in a Student symposium (SMEECS), where he made a paper presentation on, "Does forest disturbances influences seed predators and predation of Myristica dactyloides Gaertn. (Myristicaceae) in a wet evergreen forest, Western Ghats. India" under the supervision T. Ganesh. The symposium was held at NCBS Bangalore on August 20th and 21st, 2008.

Liza Pinto attended a workshop on 'Waste Paper Recycling' organised by TARA (Technology and Action for Rural Advancement, New Delhi) on September 12th 2008 at Bangalore, supported by Jyothi Nivas College, Bangalore.

Madhura Niphadkar attended the EU-India Science and Technology Workshop on Calls for Proposals, organized by EU - DST at Bangalore on: July 14th 2008.

Madhura Niphadkar attended the India Biodiversity Information Network (IBIN) Workshop - The Way Forward, organized by DBT-UAS-NRSA at the UAS campus, Bangalore on the 19th August 2008.

M. Paramesha participated in the 8th International Field Biology Course, organized by The Center for Tropical Forest Science - Arnold Arboretum (CTFS-AA) Asia Program in collaboration with Forest Research Institute of Malaysia (FRIM) in July-August 2008 (July 13th - August 23rd; 6 weeks) at Pasoh Forest Reserve, Malaysia. As part of the course he presented a paper titled, "Amla fruit-frugivore interaction and Bioresource Conservation in Biligiri Rangaswamy Temple Wildlife Sanctuary (BRT), Western Ghats, INDIA"

Nikhil Lele attended the 'EU info Seminar on Research Funding Opportunities' in Bangalore on July 14th 2008, organised by EU-India Cooperation in Science and Technology. The seminar was organized to show-case variety of EU Programmes and various disciplines under which applications can be funded.

R. Siddappa Setty participated in a workshop held in Deenabandhu Ashram at Chamarajanagara, organized by Deenabandhu and Diet, on September 17th 2008. He made a presentation in a debate on the impact and consequence of the Forest Rights Act.

R. Siddappa Setty made a presentation on Biodiversity Conservation in the Western Ghats at a Rehabilitation workshop for high school teachers in BR Hills and Kollegal, organized by Karnataka Science and Technology Academy, Bangalore on September 25th 2008.

Ramanatha Rao attended the 'First Half Yearly Internal Review Meeting of Network Project on Rare, Endangered and Threatened Medicinal Plants Ex Situ Conservation and Utilization in South and North East', held at Arya Vaidya Sala, Kottakkal on August 28th and 29th, 2008. This was organized by Dr. Indira Balachandran Director, Centre for Medicinal Plants Research (CMPR). He participated as Chair and External Expert Reviewer.

Ramanatha Rao participated in The NBPGR Research Advisory Committee (RAC) meeting as a member of RAC, held at New Delhi on July 30th & 31st, 2008, organised by NBPGR.

Ramanatha Rao participated in The NBPGR Institute Research Council (IRC) meeting as an observer from the Research Advisory Committee, held at New Delhi from August 1st to 4th 2008.

Ramesh Kannan, Gladwin Joseph and Uma Shaanker. R made a poster presentation in the 22nd annual meeting of the Society for Conservation Biology at Chattanooga, USA from July 13-17, 2008 on, "Conserving Rattan and Wrightia Tinctoria by Utilising the Invasive Weed Lantana Camara as a Substitute".

Ravi Chellam and Ankila Hiremath attended the 'National Workshop on Natural Heritage' organized by INTACH (Indian National Trust for Art and Cultural Heritage) in New Delhi on September 4th and 5th, 2008, at which Ravi Chellam made a presentation on behalf of ATREE.

G. Ravikanth delivered a talk on "DNA Barcoding - For conservation and authentication of important medicinal plant species" at the National Workshop on Medicinal Plants, held at Aranya Bhavan, Karnataka Forest Department, Malleswaram, Bangalore on September 15th and 16th, 2008.

Samuel Thomas attended a training workshop on 'Multimedia Local Content Production' organized by Panos South Asia in Kathmandu from 22-29 September 2008.

Savitha Swamy participated in a Student Meet in Ecology Evolution and Conservation Science (SMEECS), where she made an oral presentation on "Study of urban and peri-urban green spaces in Bangalore as socio-ecological systems for identifying mechanisms for their long term sustainability". The symposium was held at NCBS, Bangalore in August 2008

Sham Kashyap presented a talk titled "Status paper on conversion of agricultural lands in Karnataka" of which Seema Purushothaman was the second author, in the meeting in Karnataka for the Subgroup VI of the Committee on State Agrarian Relations and the Unfinished Task of Land Reforms, working on Common Property Resources. The meeting was held on August 21st 2008 at the Revenue Department, MS Building, Bangalore. Sham Kashyap was also the second author (Seema Purushothaman was the third author) for another presentation titled "Status paper on the Common Lands in Karnataka" presented by Dr Sharachchandra LÚlÚ (CISED).

Siddhartha Krishnan attended an FAO supported conference "Conservation and stewardship of Agricultural biodiversity in an era of Climate Change", organized by the MSSRF, at Chennai, August 7 to 9th 2008. In his talk to a largely scientific audience, he highlighted certain adaptation and mitigation issues with emphasis on Protected Areas and Coastal Estuaries.

Siddhartha Krishnan participated in a roundtable on Climate Change organized by the Centre for Education & Documentation, held in TERI, Bangalore on 27th September, 2008. He spoke on why physical consequences of climate change become potent when they coincide with a weak welfare state.

Sinu P.A attended the Bee course 2008, held at Southwest Research Station, Portal, Arizona, USA, from August 22nd to September 3rd 2008.

Soubadra Devy was an invited speaker at the Ecological Society of America Diversity Luncheon held at Milwaukee, USA, from August 3rd to 8th 2008. She spoke on 'Life as woman Ecologist in the Tiger Reserve of India'

Sushmita Mandal attended a Conference titled "Nature knowledge Power" in Uppsala, Sweden from Aug 15th to 17th 2008. She presented a paper titled "Culture Conservation Co-management: Strengthening Soliga stake in Biodiversity Conservation in BRT WS, India". The conference was organised by SASNET (Swedish South Asian Studies Network), SLU (Swedish Agriculture University) and Uppsala University.

VISITORS

Dr. Philipe Cullet, Reader in Law at the School of Oriental and African Studies - University of London, visited ATREE on July 14th 2008. He interacted with some of ATREE staff. Dr.Cullet's research interests include different fields in the area of environment and natural resource law, including biodiversity, biosafety, equity, global warming, water as well as human rights, international law and the socio-economic aspects of intellectual property protection.

GRANTS RECEIVED

Ramesh Kannan received a travel grant from Sir Ratan Tata Trust, Mumbai for a trip to Chaattanooga, USA to attend the 22nd annual meeting of the Society for Conservation Biology held from July 13th to 17th, 2008.

Ravi Ramalingam received a Rufford Small Grant for the project, "Evaluating the efficiency of restoration efforts in reviving ecosystem health using ants as indicators of restoration success".

Ravi Ramalingam received a small grant from the Oriental Bird Club for the project, "Bird community responses to habitat restoration efforts in Attappady Hills, Western Ghats".

Siddappa Setty received a grant from the Department of Biotechnology for the project, "Local alternatives for Temple offerings in South India- MM Hills and Biligiri Rangaswamy Temple Wildlife Sanctuary, Nagamalai and Allagarkoil at Madurai".

T.Ganesh received a grant from IUCN-NL under their Ecosystem Grants Programme for the project, "Conservation of wetlands for equitable use by birds and humans around a tiger reserve".

RECOGNITIONS

C. Madegowda has been appointed as Member, District Level Committee chaired by the Distirct Collector, Chamrajanagar district for the implementation of the Recognition of Forests Rights Act 2006.

Ramanatha Rao has been made a Member of the Research Advisory Committee (RAC), National Bureau of Plant Genetic Resources (NBPGR), New Delhi, India (From July 2008 for three years).

Ramanatha Rao has been appointed as Honorary Research Fellow with Bioversity International from August 2008 for one year

Ravi Chellam was appointed to a Committee for looking into the management and funding of Community Conserved Areas, set up by the Wildlife Division of the Ministry of Environment and Forests.

Seema Purushothaman has been invited to be a member of the Science Committee of bioSustainability, a committee within Diversitas, an international programme of biodiversity science.

Sinu P.A was invited to be an external reviewer of the journals: African Journal of Ecology, Journal of Applied Entomology (both Blackwell publishing) and Biosystematica (T.C.Narendran Trust)

Sunita Rao has been awarded a Fulbright Fellowship for three months from March 1st 2009. During this period, she will be based at the University of Oregon in Eugene and will be focusing on the dynamics of Community Supported Agriculture (CSA) in the US, the challenges faced by organic farmers' markets, the use and conservation of native/indigenous seeds and the tools of information retrieval and communication.

MISCELLANEOUS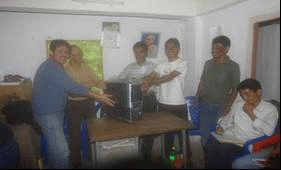 Sanyukta Bikash Samajik Sanstha, a local CBO, has been organizing communities in the Mineral Springs Valley of Darjeeling in organic tea growing, certification and fair trade. ATREE with support from the Blue Moon Fund has been supporting this CBO by marketing small farmer's organic tea. The computer was purchased from profits made from marketing the tea through the ATREE outlet.

ATREE Delhi Office - New Space
The Delhi office of ATREE shifted to a new office space in September 2008, which is located at K-1 Commercial Complex, Birbal Road, Jangpura Extension, New Delhi 110014.