Saving rainforests cheapest means of fighting climate change
ATREE hosted some of the most eminent names in canopy science at the 5th International Canopy Conference, at Bangalore, between 25 and 31 October 2009, where scientists discussed the relevance of canopies and canopy study to conservation, sustainable use and to the global challenge of climate change. 250 scientists, including more than 70 scientists representing Australia, Africa, Europe, Asia and the Americas attended the conference.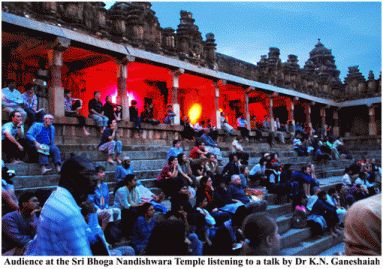 Thomas Lovejoy, the leading conservation biologist delivered the keynote address. Andrew Mitchell, Kamal Bawa, Nalini Nadkarni, Raman Sukumar, Steve Turton, Vojtech Novotny, William Laurence and Sharachchandra Lele, leading authorities and researchers on forest canopies and ecology, gave the plenary talks. Public lectures by Mark Moffett, KN Ganeshaiah and Margaret Lowman brought in civil society participation to the conference through an interesting format of public talks in the evenings.

Snippets from the conference:
'Good science was communicated. I was able to catch up on recent research, stuff that hasn't even been published', Nalini Nadkarni, professor at The Evergreen State College, Olympia, Washington, and co-founder and President of International Canopy Network
'India requires a systematic framework for long-term monitoring of its ecosystem; this being essential for its natural resource managers as well as policy makers', Dr Raman Sukumar, Chairman, Centre for Ecological Sciences, Indian Institute of Science, Bangalore
'case studies presented at the conference showed, time after time, how to take technology and demystify the science for the public', Professor Margaret Lowman of New College, and Chair of the Conference
The Art and Photo contest was held on the theme, 'Canopy - the last biotic frontier'. The winners for the art contest: Sreedevi, Anni Kumari and Sangeetha Kadur. The winners for the photo contest, selected from among 90 entries: Nanda Ramesh, Kalyan Varma, Ashwini Kumar Bhat and Kalyan Varma.
The Achievement in Canopy Ecology (ACE) award honoured Margaret Lowman, Andrew Mitchell and Nalini Nadkarni for their pioneering work in forest canopies. A special award of appreciation went to Ramesh Pandian, one of the first to work on Indian canopies at KMTR.


Workshops on 'Climbing techniques' by tree arbonauts, Ed Morrel, Sophia Sparks and Tim Kovar; a two day workshop on 'Research and education priorities for canopy ecology'; Ecoinformatics - tools for canopy science; Capacity building for canopy science research in India; IBISCA workshop at the IWST campus.
Two books released: 'Treasures on Tiger Tracks' a bilingual nature guide to Kalakad Mundanthurai Tiger Reserve and 'Non-Timber Forest Products Conservation, Management and Policy in the Tropics'. Author details in Publications section below.
Released: New web-page to share primary data on plant resources of the Western Ghats, launched by Dr KN Ganeshaiah, and attached on to JeevaSampada module of www.ibin.co.in
'This was a very inclusive conference with a strong component, stronger than in any other meet - of social justice issues and of poverty alleviation', Prof Nadkarni
Dr Lowman felt that an important development is scientific community attempts to quantify value of forests. The conference brought to focus socio-economic aspects of canopies and issues relevant to local communities. 'Rainforests provide gigantic ecosystem services on which all humanity depends...tearing this down is an economic cost we cannot afford; while saving it could be the simplest and cheapest means of fighting climate change,' said Andrew Mitchell, Director, Global Canopy Programme, UK, one of the partner organizations.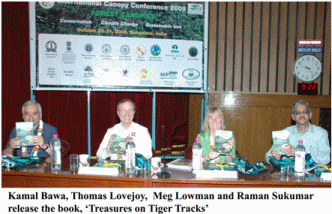 Apart from agreeing on the necessary global nature of future work, and listing priorities for canopy science research, the gathering debated the likely negative impact of climate change and land use changes on forests and forest ecosystem services. One of the recommendations for India was a long term monitoring programme to assess the effects of climate change on forests and biodiversity. Prof Sukumar of IISc outlined a proposal for ecological observatories that he and Dr Kamal Bawa, President, ATREE, are discussing with the MoEF, GoI. 'If India could implement a national network of observatories to monitor climate change impacts on the environment and its people, this could be linked to others emerging around the globe and go a long way in enhancing our ability to get early warning systems about the potential impacts on forests.'

Scientists agreed on the need to increase efforts in describing and cataloguing new species, of improving infrastructure to study forest canopies; and a canopy programme for India involving a consortium of international institutions of diverse disciplines (physiologists, Remote Sensing (RS) experts, ecosystems scientists, and modellers). As a step in this direction, ATREE and IWST plan to organize IBISCA in India by forming a scientists' network.

The organizers of the conference were Soubadra Devy and Ganesh T and the KMTR team, with Indian Institute of Science, Indian Academy of Sciences, School of Ecology and Conservation - UAS, Indian Council of Forestry Research and Education - IWST as co-organizers. Global Canopy Programme, The International Canopy Network, Karnataka Biodiversity Board and Jungle Lodges and Resorts partnered the event. Council of Scientific & Industrial Research, Department of Biotechnology, Department of Science & Technology, Ministry of Environment & Forests, Indian National Science Academy, National Academy of Sciences, National Science Foundation, Infosys Foundation, Jamshetji Tata Trust, Tree Foundation and Wipro were the event sponsors.

The book of abstracts (166 abstracts from 27 countries) can be downloaded from website (http://www.canopy2009.org). Visit http://www.atree.org/press for press coverage on the conference.
---

ACADEMY MATTERS
ATREE adds field office at Gangtok, Sikkim
ATREE announces a new field office in Gangtok, Sikkim, that will support research on biodiversity, ecosystem services, and bioresources and their management under emerging scenarios of global environmental change in the Eastern Himalayas. The office will be jointly operated by ATREE and the National Centre for Biological Sciences (NCBS), Bangalore. It is funded by the Department of Biotechnology (DBT), Govt. of India. The field office will host several researchers (including Ph D students and post-docs), and will conduct training and outreach workshops aimed at developing capacities for research and sustainable management of bioresources for various stakeholders in the region. For additional information please contact Dr. Robert John Chandran (robert.chandran@atree.org) or Ms. Yeshey Namgyal (yeshey.namgyal@atree.org).
---

Students monitor wetland - Kaggalipura lake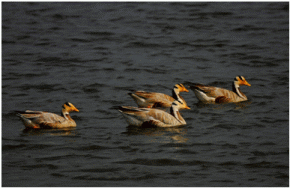 Dr. Aravind N A gave a talk on pond ecosystems to students of Government High School, Vyasarajapura, T Narasipura taluk under the DNA Club programme. Taking advantage of the fact that Kaggalipura lake is only about 2 kms from the school, and is one of the few lakes visited by bar-headed geese, a field visit was organized to the lake. Students prepared a map of the wetlands and surveyed the birds and vegetation present in and around the lake. The students have undertaken to monitor this lake as part of DNA field activity.
---

'Water walk' at Bellandur lake
The Urban Ecology team of ATREE and The Teacher Foundation organized a water walk workshop on Bellandur lake for school teachers. This was done under the Contemporary Classroom Workshop series of The Teacher Foundation, on 8th December 2009. The workshop was held at the lake, with the ATREE team talking about the history of Bellandur lake, its geography, past uses, recent changes - including pollution and land use change. The objective of the workshop was to highlight the importance of lakes in Bangalore and the need for their preservation.
---

OUTREACH
Survey techniques and planning for biodiversity conservation and sustainable use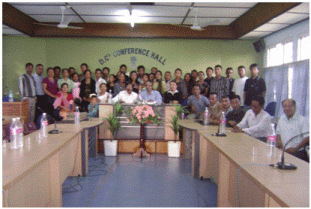 The Forest Department, Mizoram and ATREE jointly organized a one-day workshop on 13 November 2009, in DC's conference hall, Kolasib Town. There were 63 village representatives belonging to different villages in Kolasib district.

The main objective of the workshop was to develop and demonstrate techniques for forest conservation and sustainable development in the north eastern region of India, using Mizoram as a model. The techniques provided examples of forest sector strategic planning at the district level, and people centric forest planning at the village level. Speakers included District Collector Dr. K.D. Singh, Dr. S.S. Garbyal - PCCF, Dr. Kumar - Mizoram University. The event was reported in the local press.
---

Discussion on MoEF's National Environmental Protection Authority
Centre for Policy Research, ATREE and Prayas Energy Group organized a 'Brainstorming Workshop on the proposed National Environmental Protection Authority (NEPA)' in New Delhi on 6 Nov 2009. The 15 participants - academics, policy researchers, activists and practitioners, discussed the idea of NEPA as laid out in the concept note circulated by the Ministry of Environment and Forests (Government of India). The discussions covered conceptual and design issues with a NEPA-like approach, as well as wider issues in environmental governance and experience of independent regulatory agencies in other sectors such as electricity and water. The outcome of the meeting was a synthesis document that highlighted these issues in a note submitted to the Ministry, which has also been published in EPW.
---

Creating awareness on responsible fishing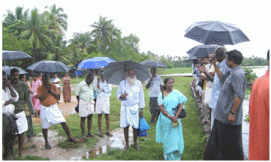 The lake protection forums at Vembanad lake celebrate the ayilyam-makam festival every year, along with fisherfolk from local areas. The objective of this festival is to create awareness for responsible fishing. The ritual of sprinkling seeds in the water was performed near the temple areas in Thrikkunnapuzha and Mannarkad on 9th Nov 2009. Among the people present were fisherfolk and other stakeholders, and local dignitaries. K.V. Dayal, Latha Bhaskar, Poovu, Kumar and G. Ponnad spoke on the occasion.
---

Calendar release to honour child artists at ATREE - KMTR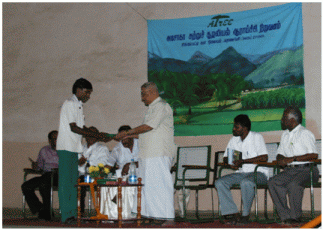 ATREE's 2010 calendar features young artists from our conservation education programmes at our community-based conservation centres (CCCs). The team at Kalakad Mundanthurai Tiger Reserve (KMTR) felicitated these talented children in a calendar release function organized in Tilak Vidyalaya Hr. Sec. School at Kallidaikurichi on 9th December 2009. The Raja of Singampatti, His Highness, Murugadass Theerthapathi, graced the function. Also present were Shri Sankarasubramanian, Secretary of Tilak Vidyalaya Hr. Sec. School, principals of local schools and National Green Corps coordinators, and Rotary and Lions Club members.
---

Facilitating implementation programmes in the Western Ghats - CEPF grants update
The Critical Ecosystem Partnership Fund (CEPF) had selected ATREE as its Regional Implementation Team (RIT) partner for its US $4.5 million, 5-year investment strategy for the Western Ghats. This had been initiated in April 2007, with the aim of achieving conservation goals identified in the Western Ghats Ecosystem Profile, and providing assistance to civil society groups in designing, implementing, and replicating successful conservation activities through conservation grants. The first call for grants for the Western Ghats region was made in December 2008, when 59 letters of inquiry for Large Grants and 36 proposals for Small Grants were received. During the Oct-Dec 2009 period, 17 applications for Large Grants moved to the full proposal stage, and 21of the 22 approved Small Grants projects were initiated. The remaining projects are being implemented or are in the process of being finalized (as of Dec 31st 2009). For more details: http://www.atree.org/CEPF_WGhats
---

RECOGNITIONS & HONOURS
There are three Fulbright-Nehru Environmental Leadership Programme fellows at ATREE at present:Sharachchandra Lele, Nitin Rai and Siddappa Setty.

Smitha S.G. participated in 'BIOCICON 2009 - Second Biopesticide International Conference' held at Palayamkottai (TN), and won the best poster award.
---

New Staff
Amrita Tripathy - Project Assistant, CEPF RIT
A. Aneesh - Research Associate, EIC
Rakesh K.N. - Senior Research Associate
Shijo Joseph - Research Associate
Suchismita Das - Research Associate
---

Support Staff
Hemalatha Ganesh - Administrative Secretary
---

Publications
Balachander, M., O.K. Remadevi, T.O. Sasidharan and N. Sapna Bai. 2009. Infectivity of Metarhizium anisopliae (Deuteromycotina: Hyphomycetes) isolates to the arboreal termite Odontotermes sp. (Isoptera: Termitidae). International Journal of Tropical Insect Science Vol. 29, No. 4, pp. 202-207, 2009. http://journals.cambridge.org/

Nagendra, H., 2009. Drivers of regrowth in South Asia's human impacted forests. Current Science 97, 11:1586-1592.1586.pdf

Nagendra, H., 2009. Society and science: interdisciplinary exchanges. Current Science 97, 11:1513-1514.

Rosencranz., Armin, Geetanjoy Sahu, 2009. National Green Tribunal Bill, 2009: Proposals for Improvement. EPW, 28 November 2009. 14180.pdf

Devy, M. Soubadra., Savitha Swamy and Aravind N. A. 2009. Reshaping urban green spaces. EPW, November 14, 2009, vol XLIV No 46.

Sasidaran, T.O., O.K. Remadevi, R. Usharani, Priyadarsanan D.R. and N. Sapna Bai. 2009. Evaluation of cultural characteristic and pathogenicity of some isolates of Metarhizium Anisopliae against teak defoliator, Hybaea Puera Cramer. Uttar Pradesh J. Jool. 29(2): 142-148.

Lele, S., 2009, 'Right direction, but long way to go', Current Conservation, 2(4): 6-7.

Lele, S., Watershed services of tropical forests: from hydrology to economic valuation to integrated analysis. Current Opinions in Environmental Sustainability. Science Direct, Volume 1, Issue 2, December 2009, Pages 148-155. doi:10.1016/j.cosust. 2009.10.007

Shweta Singh, Sebastian Zuehlke, Ramesha B T, Priti V, Mohana Kumar P, Ravikanth G, Michael Spiteller, Vasudeva R, Uma Shaanker R. 2009. Endophytic fungal strains of Fusarium solani, from Apodytes dimidiata E. Mey. ex Arn (Icacinaceae) produce camptothecin, 10-hydroxycamptothecin and 9-methoxycamptothecin. doi:10.1016/j. phytochem. Phytochemistry 71 (2010) 117-122. (Abstract)

Mohana Kumara P., Sreejayan N, Priti V, Ramesha B T, Ravikanth G, Ganeshaiah K. N, Vasudeva R, Mohan J, Santhoshkumar T, M P Dutt, R Viswakarma, Uma Shaanker R. 2009. Dysoxylum binectariferum Hook.f (Meliaceae), a rich source of rohitukine. Fitoterapia doi: 10.1016/j.?tote. 2009.08.010

Prathapan, K.D., Priyadarsanan Dharma Rajan. 2009. Biological Diversity Act, 2002: Threat to agricultural production and food security! Current Science, Vol. 97, No. 5, 626-629, 10 September 2009.

Popular Press
Prathapan, K.D., Priyadarsanan Dharma Rajan. 'Let the genes cross borders'

Books
Uma Shaanker, R., Ankila J. Hiremath, Gladwin Joseph and Nitin D Rai. 2009. (Eds). Non-Timber Forest Products Conservation, Management and Policy in the Tropics.

Ganesh, T., R Ganesan, M. Soubadra Devy, Jahnavi G. Pai. 2009. Treasures on Tiger Tracks - A Bilingual Nature Guide to Kalakad Mundanthurai Tiger Reserve.

Book Chapters
Uma Shaanker, R., Gladwin Joseph, N.A. Aravind, Ramesh Kannan, and K.N. Ganeshaiah. Invasive Plants in Tropical Human-Dominated Landscapes: Need for an Inclusive Management Strategy 202. In: Bioinvasions and Globalization Ecology, Economics, Management, and Policy. (eds. Charles Perrings, Harold Mooney, and Mark Williamson). OUP.

Gadgil, A. and S. Lele. 2009. 'India: Special Role and Responses'. In: Climate Change Science and Policy. S. H. Schneider, A. Rosencranz, M. D. Mastrandrea and K. Kuntz-Duriseti (Eds). Island Press, Washington, D.C. 2010, pp.323-331.

Lele, S. 2009. 'Reflections on Interdisciplinarity in Environmental Economics in India'. In: Handbook of Environmental Economics in India. Kanchan Chopra and Vikram Dayal (Eds), Oxford University Press, 2009, pp.305-325.

Lele, S., I. Patil, S. Badiger, A. Menon and R. Kumar. 2009, 'Forests, Hydrological Services, and Agricultural Income: A Case Study from Mysore district of the Western Ghats of India', in M. N. Murty, P. Shyamsundar and E. Haq (Eds.), Valuing the Invaluable - The Practice of Environmental Economics in South Asia, Oxford University Press, Oxford, U.K., p.(in press).

Joy, K. J., A. Shah, S. Paranjape, S. Badiger and S. Lele. 2009, 'Re-visioning the Watershed Development Programme in India', in G. K. Kadekodi and B. Viswanathan (Eds.), Agricultural Development, Rural Institutions, and Economic Policy: Essays for A. Vaidyanathan, Oxford University Press, New Delhi, pp.152-175.

Book Review
Thomas, Bejoy K., 'International Development Studies-Theories and Methods in Research and Practice' by A. Sumner and M. Tribe, Development and Change, 40(5): 977-8, doi: 10.1111/j.1467-7660.2009.01591.x

Papers Presented
Lele, S. 'Markets or Governance? Contrasting approaches to biodiversity conservation.' At the DIVERSITAS 2nd Open Science Conference on 'Biodiversity and Society: Understanding Connections, Adapting to Change', Cape Town, South Africa. 13-16 October 2009.
---

Talks by ATREE staff
Lele., S. 'Engaging with Policy, Engaging with Politics: Some experiences and many questions', at Prayas Energy Group, Pune. 29 December 2009.

Rosencranz, Armin, Senior Visiting Fellow, ATREE. 'Green Tribunal Bill Needs recast', at Department of Law, University of Mysore, Administrative Training Institute, Mysore, Mahajan First Grade College, Mysore. 9 Nov 2009.

Lele., S. 'Biodiversity Conservation in a Social Context:Values, Markets, and Governance' at the 5th International Canopy Conference on 'Forest Canopies: Conservation, Climate Change and Sustainable Use', organised by ATREE at the IISc campus, Bangalore. 30 Oct 2009.

Rozencranz, Armin, Senior Visiting Fellow, ATREE, 'Environmental Law and Policy in India' at Centre for infrastructure, Sustainable Transport and Urban Planning (CiSTUP), IISc, Bangalore, 23 October 2009.

Lele., S. 'Climate Change and Sustainable and Equitable Development in India' at the Bangalore Platform on Climate Change, Bangalore, 21 October 2009.

Ramachandran., Vivek. 'Bird communities in structurally diverse habitats in Kalakad-Mundunthurai Tiger Reserve - A canopy centric approach' at the Students symposium, 5th International Canopy Conference, Bangalore, Oct. 2009.

Ramachandran., Vivek. 'Vertical stratification of small mammals in a rain forest of the southern Western Ghats, India', Vertebrate symposium, 5th International Canopy Conference, Bangalore, Oct. 2009.
---

Seminars
Siddappa Setty R., 'Biodiversity conservation and poverty alleviation in India', 'Agroforestry and livelihood of Soliga tribes in India', 'Invasive species as resource opportunity', 'Rock bee monitoring and honey harvest in a tropical forest', 'Biodiversity Conservation and Livelihood in India', 'Conservation policies in India and their impact on livelihood of Soliga tribes' at Oregon State University, Kansas University and American Museum of Natural History at New York. September to December, 2009.

Lele, S. 'The Ethical Breadth of Environmentalism', at the Centre for Study of Culture and Society Bangalore, 27 August 2009.

Ramachandran., Vivek. 'Canopyscape: Current trends in canopy research and exploration', organized as a part of the 5th international canopy conference under the aegis of the Academy of Conservation Science. 25 October, 2009.
---

Presentations
K., Abhisheka, 'Art as a medium for conservation education in a fringe village of Kalakad Mundanthurai Tiger Reserve', Global conference on Environmental Education, organised by Indian Environmental Society in Goa, 4 - 8 November 2009.

Siddappa Setty R., 'Invasive plants in tropical human dominated landscapes: need for a paradigm shift in their management' at DIVERSITAS International conference at Cape Town, South Africa, 13 - 19 October 2009.
---

Workshops Organised
'Water Walk', a field based workshop on Bellandur Lake for school teachers. Organised by Urban Ecology team of ATREE in association with The Teacher Foundation. Bangalore, 8 December 2009.

Lele., S. 'Brainstorming Workshop on Proposed National Environmental Protection Authority'. (co-organized with Centre for Policy Research, New Delhi and Prayas, Pune) and sponsored by Ford Foundation. New Delhi, 6 November 2009.

Badiger., Shrinivas, Divya Badami Rao, Sharachchandra Lele, Smriti Das, Meetu Desai. 'Emerging Water Regulatory Frameworks and Related Reforms in Water Governance in Karnataka.' United Theological College, Bangalore, 2 September 2009.
---

Talks at ATREE
Darley Kjosavik, NORAGRIC. 'Development Theories and Interdisciplinary Research'. 23 -26 November 2009.

P.K. Ramachandran Nair, Professor at School of Forest Resources and Conservation, IFAS, University of Florida. 'Current trends in ecology and environment.' 15th December 2009.

Desmond McNeill, Professor, Centre for Development and the Environment, University of Oslo, 'Interdisciplinary research and teaching on development and the environment: some critical reflections from experience'. 16 November, 2009.

Himanshu Kumar, Gandhian activist from Dantewada, Chhattisgarh, 'The Maoists, the tribals, and the state'. 10 November, 2009.

Gerry Martin from Agumbe Rainforest Research Station (ARRS), 'Potential for future research at the Agumbe Rainforest Research Station'. 9 November 2009.

Prakash Kashwan, School of Public & Environmental Affairs (SPEA), Indiana University, Bloomington. 'Forests in Flux: Effect of political mobilization and local institutions on implementation of participatory policy reforms in India', 22 October 2009.

Prof. Armin Rosencranz, 'Judicial Activism and the Environment in India' at ATREE, Bangalore, October 9, 2009.
---

Documentary
Rosencranz., Armin, Amit Kurien and Madhura Niphadkar. 'One night in Bhopal', to commemorate the 25th anniversary of the Bhopal Gas Disaster. 4th December 2009.
---

Workshops/Seminars Attended
Aravind N.A., Sunita Rao, Abhisheka K. Seminar on 'Environmental education' organised by ATREE at Pitchandikulam, Auroville on 1 - 3 Dec 2009.

S., Mohan. 'Consultative workshop on food security in South Asia: Identifying key research priorities', International Development Research Centre (IDRC), New Delhi, 17- 18 December 2009.
---

Grants received
Arundati Das received ATREE-NORAGRIC Small Grant for research on 'Potential climate change impacts on endemic tree species of the Western Ghats', as part of her Ph D research.
---

Press reports
'Lantana threatens native species on B.R. Hills'

Article on Dr Bawa

No green signal for MoEF revamp