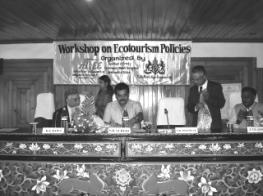 The synthesis workshop of the British High Commission sponsored project on Ecotourism was held on 28 March 2005 at Gangtok, Sikkim. The workshop was inaugurated by Shri. SB Subedi, Hon. Minister of Forest and Environment, Government of Sikkim.

The discussions centered on issues of an appropriate nodal authority, a clear cut national policy and issues of community participation, benefit sharing, sustainability and socio-cultural footprint. This workshop concluded a phase of consultation and evaluation that involved identifying ecotourism models, evaluation of models with respect to indicators developed, verifying policy gaps in evaluated models, and synthesis of findings for the two biodiversity hotspots: Western Ghats and Eastern Himalayas. Earlier, state-level consultation workshops were held in Karnataka, Kerala, Kalimpong and Sikkim. A policy 'white paper' has since been presented to the Government of India.

The minister urged ATREE to set up a Centre for biodiversity research in Sikkim. Dr. Kamal Bawa, President of ATREE thanked the minister for the generous invitation and said that ATREE was committed to strengthening efforts at biodiversity conservation, bringing institutions together, and enabling collaborative efforts in conservation.
---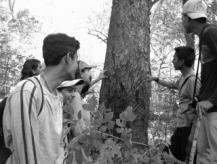 ATREE with support from Bioresource Board, Department of Biotechnology organized a course on bioresource conservation and sustainable use in Bangalore from 2-30 May 2006. The course was aimed at students who have appeared for class X exams.

This was an attempt to expose students to the excitement of studying biology and train young ambassadors for nature conservation. The course included lectures from an interdisciplinary group of scientists and experts from ATREE and other premier research institutes such as Centre for Ecological Sciences, University of Agricultural Sciences, National Center for Biological Sciences, National Bureau of Soil Survey and Land Use Planning, Foundation for Revitalization of Local Health Traditions, Central Institute for Medicinal and Aromatic Plants and Natural Remedies. They were also exposed to issues on conservation and livelihoods through discussions and screening of movies. Classroom sessions were supplemented with workshops on skills required for field biology and field trips to BRT Wildlife Sanctuary, Ranganathittu Bird Sanctuary, Green Foundation and Navadarshanam.
- Jahnavi Pai
---
The Tamil Nadu Forest Department (TNFD) invited ATREE to present its work in the Kalakad-Mundanthurai Tiger Reserve (KMTR) to a team of senior conservators on 20 April 2006. The Chief Wildlife Warden and present and previous Field Directors of KMTR were present. The ATREE team comprising of R. Ganesan, M. Soubadra and T. Ganesh took this opportunity to highlight past work, long term monitoring efforts and plans for the future. Our efforts were highly appreciated and it was decided that a summary of ATREE's work would be included as a supplement in their management plan. TNFD has also invited the ATREE team for collaborative ventures including joint monitoring of plots established by TNFD for tiger census. They also welcomed the need for field guide training for youth of KMTR area and appreciated ATREE's effort in this regard. The TNFD wants ATREE to work with them and with other institutions in the KMTR area to reduce pressure on the forests along the long eastern boundary of the reserve.
- T. Ganesh
---
ATREE has been awarded the prestigious Dr. A.P.J Abdul Kalam award for Environment Conservation for the year 2006-2007. This award is given to individuals and organizations for outstanding contributions in environmental conservation and management. The award consists of a cash prize of Rs.100,000 and a citation. His Excellency Dr. A.P.J. Abdul Kalam presented the award at a function organized by Karnataka Forest, Ecology and Environment Department and the Karnataka State Pollution Control Board to mark World Environment Day on 6 June 2006 at the Jnana Jyothi Auditorium, Central College Campus, Bangalore. Dr. Gladwin Joseph received the award on behalf of ATREE.
---
Dr. S.N. Rai has been appointed to the Expert Regional Committee (Southern Region) constituted by the Ministry of Environment and Forests (MoEF) for Management Effectiveness Evaluation (MEE) of the Protected Area Network in India. The Ministry has decided to undertake mandatory independent audit of National Parks and Wildlife Sanctuaries in the country by a group of experts. Five Expert Regional Committees and a Central Committee have been constituted for this purpose. They will undertake evaluation on a periodic basis with a view to ascertaining how well the PA network in the country is meeting the conservation objectives as well as the social objectives for effective wildlife management. The other members of the Southern Region Committee are Dr. R. Sukumar and Dr. E.A. Jayson.
---
ATREE has initiated work on a project titled: 'Evolving participatory integrated management plan for Lake Vembanad, Kerala'. This project is supported by the Akshaya Foundation. A project office has been established at Vembanad. The staff: Jojo, T.D. (RA), Deepak Dayanandan (RA), Lakshmi, E. (RA), and Sanitha (Receptionist/ housekeeper).
---
Smrithi Talwar has joined ATREE as Fellow, Governance and Policy. She is a lawyer with a specialization in public policy implications of decentralized natural resource management. She has worked with the UN system in Geneva and New Delhi. Her research interests include environmental governance particularly in relation to common pool resources, and the political ecology of environment and development policy.

Kalpana Prasanna has joined ATREE Bangalore as Executive Assistant to the Director. She has an M. Phil in Sociology and worked as a Lecturer (Sociology) at the Maharani Lakshmi Ammanni College for Women, Bangalore. Earlier, she worked as Executive Secretary at Wipro Infotech Group, and HR Executive at Wipro Systems, Bangalore. She also worked as Administration Executive with an IT firm in Singapore.

Samuel Thomas has joined ATREE Bangalore as Communications Officer. He has worked as Programme Officer with the Nepal Country Office of IUCN - The World Conservation Union. He has a master's degree in English Literature and has worked as a journalist and teacher.

Gokul has joined the Coastal and Marine Programme at ATREE as a Senior Research Associate on the UNDP - GoI tsunami project. He recently submitted his Ph.D thesis on the Coral Crabs of the Gulf of Mannar, Tamil Nadu from Madras University.

Anusha Koushik has joined the Coastal and Marine Programme at ATREE as a Research Associate. She completed her M.Sc in Zoology from Queensland University, Australia. She will assist in the administrative work of the Programme and its work in Orissa while developing her own research interests.

Yoganand has joined ATREE as a Visiting Fellow. He has worked in Panna Tiger Reserve (Madhya Pradesh) on the behavioral ecology of the sloth bear. He will work on mapping distribution of bears in Tripura and Mizoram in the North East. He is a Research Associate of the Smithsonian's National Zoological Park, conducting conservation biology studies in India.

Rakhi Rai joined ATREE in November 2005 and is rendering editorial assistance to ATREE's journal Conservation & Society. She completed M.Sc. in Applied Genetics from Bangalore University. She worked on various research projects at the Indian Institute of Science, Bangalore prior to joining ATREE.

B. Muthuraman joined ATREE in May on the UNDP-GoI Post Tsunami Environment Project. He has completed M. Sc in Oceanography and Coastal Area studies from Alagappa University, Tamil Nadu. He has worked at Central Agricultural Research Institute, Andamans, Madurai Kamaraj University, Tamil Nadu, and Gujarat Institute of Desert Ecology, Bhuj.

Bhawna Sharma joined ATREE in May. She will work on Remote Sensing and Image Interpretation, Landscape Fragmentation Analysis, Biodiversity studies. She has completed M.Sc. (Environmental Studies) from TERI School of Advanced Studies, New Delhi.

Nilima Nath joined ATREE in May. She is working on GIS & RS based mapping for the Conservation and Livelihoods Programme and some assignments for the Ecoinformatics Centre. She has a Post Graduate Diploma in Computational Biology from Abasaheb Garware College, Pune and B.Sc. (Microbiology and Biotechnology) from Ramnarain Ruia College, University of Mumbai.

Jahnavi G. Pai joined ATREE in April. She is responsible for coordinating the ATREE Vacation Training Programme and preparing the final report. She has completed M.Sc (Ecology and Environmental Sciences) from Salim Ali School of Ecology and Environmental Sciences, Pondicherry.

Vidya Krishnan, Kadeeja C.K and Shali have joined the Western Ghats Insect Inventory programme as Junior Research Scholars.

Roopa Simon joined ATREE in February. She has an M.S in Ecology from Salim Ali School of Ecology and Environmental Sciences, Pondicherry and is conducting research on epiphytes in Kalakad Mundanthurai Tiger Reserve.

Suparsh. P. N. joined ATREE as Research Associate in February. He has a M.Sc. (Environmental Science) from University of Mysore. He is working on the Arghyam Water Portal, involved in generating datasets and GIS & RS based mapping for the India Water Portal Project. Earlier, he worked on the UNESCO-Ford Hydrology project at ATREE (Oct '03 to June'05).
---
Krishnaswamy, J., Bunyan, M., Mehta, V.K., Jain. N and Karanth. K.U. 2006. Impact of iron ore mining on suspended sediment response in a tropical catchment in Kudremukh, Western Ghats, India. Forest Ecology and Management. 224:187-198.

Narendran, T.C., K. Sudheer, P. A. Sinu, D. R. Priyadarsanan, 2006. A new genus of Chalcidae (Hymenoptera: Chalcidoidea) from Karnataka, India. J. Ecobiol. 18(2) 155-159.

Soubadra Devy, M., and P. Davidar. 2006. Breeding systems and pollination nodes of understorey shrubs in a medium elevation wet evergreen forest, southern Western Ghats, India. Current Science 90(6): 838-842.

Bawa, K.S. 2006. Globally dispersed local challenges in conservation biology. Conservation Biology 20(3): 696-699.

Perrings, C., Jackson L, Bawa K S, Brussaard L, Brush S, Gavin T, Papa R, Pascual U, De Ruiter P. 2006. Biodiversity in agricultural landscapes: Saving natural capital without losing interest. Conservation Biology 20(2): 263-264.

Shanker, K., & Choudhury. B.C. 2006. ed Sea turtles of the Indian subcontinent. Universities Press, Hyderabad. India.

Shanker, K. 2006. Taxonomic debates are important. Down to Earth 14(18): 49.

Shanker, K. 2006. An island away. Down to Earth 14(23): 51.

Shanker, K. 2006. A common environmental ethic. Down to Earth 14(21): 51.

Shanker, K 2006 'Sher Khan Needs His Share' Outlook, Jan 16, 2006: 66.

Shanker, K. 2005. Let's look beyond tigers. Times of India, Dec 20.

Shanker, K., and Sridhar A. 2005. ed. Indian Ocean Turtle Newsletter. Issue 3.

Shanker, K. 2006. Small empty patches are important. Down to Earth 15(2):50.

Sridhar A. 2006. 'The Olive Riddle', The Hindu Sunday Magazine.

Tripathy, B., Shanker, K. and Choudhury, B.C. 2006. The status of sea turtles and their habitats in the Lakshadweep archipelago, India. Journal of the Bombay Natural History Society
---
Kartik Shanker was Program Coordinator, 26th Annual Symposium on Sea Turtle Biology and Conservation, Island of Crete, Greece. April 2006.

Priyadarsanan Dharmarajan attended the National Congress of Entomology at Punjabi University, Patiala from 1-3 March 2006 and presented a paper on 'Conserving Insects: Do we need a top-down strategy?'. He also organized a panel discussion on 'Biodiversity Act and Entomology Research'.
---
Ravi R. has registered as ATREE's first doctoral candidate with Manipal Academy of Higher Education (MAHE), under the supervision of Dr. Priyadarsanan Dharmarajan. He will be working on "Insect community responses to habitat restoration efforts in tropical forests of Western Ghats". He has also received a grant from International Foundation of Science (IFS) for a project "Pattern of recolonization by ground insect community in restoration sites"
---
Priyadarsanan Dharmarajan has been awarded a one year Free Membership to Entomological Society of America on Presidents Circle Recommendation.