ATREE LAUNCHES INDIA'S FIRST ECO-INFORMATICS CENTRE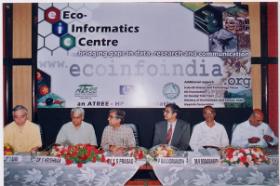 ATREE launched India's first EcoInformatics Centre for Conservation and National Resource Management on May 13, 2005 at the Hotel Grand Ashok, Bangalore. The centre is based in Bangalore, in collaboration with the University of Agricultural Sciences (UAS) and Hewlett-Packard (HP) with support from the United Nations Foundation and the Indo-US Science & Technology Forum. The centre is unique in that it makes key information readily available to researchers and decision makers that will lend to success in conservation and management of India's biological resources.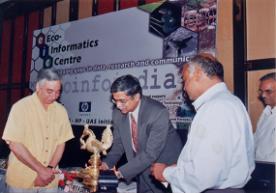 Additionally, the centre performs an important public service function as a source of information on biodiversity and other environmental features. The centre was inaugurated by Dr. M.Y.S. Prasad, Director, Master Control Facility, ISRO, Hassan, who also launched the centre's website, www.ecoinfoindia.org. Other highlights of the occasion were: (1) the signing of an MOU by the National Chemical Laboratory (NCL), Pune and ATREE. This serves as the centre's first significant step toward building institutional collaboration and data sharing for conservation and natural resource management purposes. (2) a grant awarded to ATREE by MapInfo, the global leader in location-based software solutions. The grant will help to establish an internship programme which will allow a select group of national and international students to work on the development of webGIS related tools and applications using JAVA technology.

Eminent members of the scientific and academic community, senior government officials, representatives of private foundations, senior officials of corporate organizations and NGOs as well as the media attended the function.
-Vishakha Das
---
CONFLUENCE ON LANTANA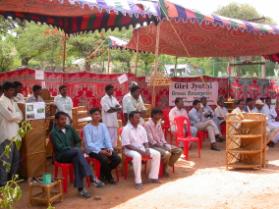 In the last one year, ATREE has progressively taken strides in providing support to the livelihoods of several forest fringe communities by disseminating knowledge on lantana craft.

To create a larger awareness of lantana craft from our findings and to initiate a dialogue on the problems and prospects among the artisans, ATREE and the Soligas at MM Hills (Male Mahadeshwaran Betta) organized a one-day Confluence on Lantana on April 2, 2005.

The Confluence, attended by more than 150 participants, brought together a host of people/professionals representing different sections of society, including the artisans working on lantana. The forest officials included Mr. Kumar Pushkar IFS (DCF, Kollegal), Dr. Raju IFS, (DCF, Chamrajnagar), Mr. Venkatesh IFS (CF, Chamrajnagar) and Mr. Srikantaiah IFS (CF, Mysore). Artisans from MM Hills (Karnataka), Natham (Tamil Nadu), Chithoor (Andhra Pradesh) and Dehradun (Uttaranchal) were among the discussion group in the Confluence.

To create a larger awareness and also enhance the spread of this knowledge, Mr. Ramesh Kannan, from ATREE, presented an overview on the continuous development of lantana products, ongoing training and innovations. He emphasised the need to train more artisans and also to keep working towards suitable designs for newer lantana products. Success in this could perhaps be a determining factor in harnessing the market potential for these products.

Dr. S. Natesh, Senior Advisor, Department of Biotechnology, Government of India, who was a special guest present at the occasion, remarked, "For marginal communities, any resource is potentially useful. Realization of that potential is only limited by the ingenuity of the people. By using lantana, the people have certainly demonstrated their ingenuity and creativity".


-Srinivasan K
---
SUMMER WORKSHOP ON BIODIVERSITY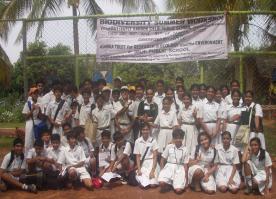 From the 29th to the 31st of March 2005 ATREE, in partnership with Delhi Public School, Yelahanka, conducted a three-day Biodiversity Summer Workshop at the Butterfly Garden in Delhi Public School, Yelahanka. The main objective of the workshop was to create awareness amongst children on the faunal diversity in their backyards. A total of 200 students participated, from the 4th to the 7th standard. The workshop was also a capacity building program for science teachers.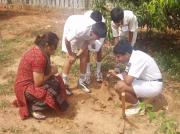 In preparation for this workshop, the coordinators created an activity manual. This manual gives a brief outline on the ten taxa that are most commonly found in our backyards: butterflies, ants, bugs and beetles, spiders, frogs, birds, dragonflies, land snails, bees and termites. The students tested the practicability of this manual during the workshop. At the end of each day, they were asked to write a report on the activities they carried out and the results they obtained.

During the workshop, students began to appreciate the flora and fauna on their school premises. It was evident that they could appreciate the functional aspects of biology much better out in the field than in classroom lectures. With close monitoring it can be expected that at the end of the year the students could come up with user-friendly guides for individual taxa found on the school premises with illustrations and field descriptions of their own.
-Savitha Swamy
---
OMRCC UPDATE
In order to improve sea turtle conservation in the Orissa state using a participatory approach, ATREE's Coastal and Marine Conservation Programme team facilitated the creation of the Orissa Marine Resources Conservation Consortium (OMRCC). The approach of the OMRCC is to work together on issues where there is common interest and consensus towards ensuring the sustainable use of marine living resources and livelihoods in Orissa. The coastal programme conducted further workshops and meetings in February and April to familiarize members of the fishing community with current legislations that pertain to sea turtle conservation as well as those affecting their livelihoods. The programme has also produced a booklet in English and Oriya on marine conservation legislation, particularly in the context of marine turtles.
---
NEW STAFF
Dr. Siddhartha Krishnan, has joined ATREE as a Post-doctoral Fellow in the social sciences. He plans to continue his analysis of forest conflicts in the Nilgiri Wynaad region along a variety of theoretical and policy perspectives. He obtained a PhD from the Department of Sociology, University of Madras. His doctoral thesis titled, 'Deforestation and Conflict in the Nilgiri Wynaad, ' broke out of the traditional frame of sociological research at the University of Madras as a result of engaging with issues of forest use, rights and conflicts.
As a Post-doctoral Fellow in the social sciences, Siddharth will strengthen ATREE's enquiry into social science aspects of biodiversity conservation and livelihoods.

Ms. Japna Tulsi has joined as Research Associate in the Conservation, Policy & Planning cell at ATREE, Delhi. She has completed an M.Sc. in Communication for Sustainable Livelihoods from the University of Reading, U.K. She has also completed her Masters in Social Work from the Tata Institute of Social Sciences, Mumbai.

Ms. Shilpi Sinha has joined as Program Officer (Conservation Education) at ATREE, Delhi. She completed Post Graduation in Forestry Management from IIFM, Bhopal with specialization in GIS & RS, EIA and Corporate Environment Responsibility. Her interest areas of work include Climate Change and Business Development.

Ms. Smitha Krishnan has joined ATREE as a Research Associate. She completed an M.S. in Ecology from the Salim Ali School of Ecology and Environmental Sciences, Pondicherry University. She was previously associated with ATREE for 3 years until 2002, for the project "Enhancing the Role of Forest Fruits in Sustaining the Livelihoods of Forest Fringe Communities".

Mr. Paramesh has joined as Research Associate at ATREE, in our BR Hills field office. He has completed his M.Sc. in Botany from Mysore University.

Sinu, P.A. has been selected as a member of Royal Entomological Society (RES), London.
---
PRESENTATIONS
Sridhar, A. presented a paper titled "Highlights and findings on the study on CRZ notification and post-tsunami rehabilitation commissioned by UN" at the Consultation on Reconstruction of Shelters and Community Infrastructure, 12th April 2005. Organized by the Government of Tamil Nadu and the UN Team for Recovery at Chennai.
Shankar, K. gave talks titled, "Marine turtles: The ocean's ambassadors" and "Marine turtles: the ancient mariners" at the Workshop on Ecosystem Services in Coastal and Marine Systems held by the Indian Society for Ecological Economics.
---
PUBLICATIONS
Ganesh T. and M.S. Devy (2005) Canopy world. Sanctuary, February.

Ganesh, T. and P. Davidar (2005) Fruiting phenology and pre-dispersal seed predation in a rainforest in southern Western Ghats, India. In: Tropical Fruits and Frugivores: The Search for Strong Interactors (eds. J. Lawrence Dew and Jean Philippe Boubli) pp. 137 - 152. Springer,Netherlands.

Sankaran, S., A. Sridhar & B. Tripathy (2005) Orissa Marine Conservation Legislation (available in Oriya and English). ATREE, Bangalore. 20 p.

Sridhar A., (2005) Statement on the CRZ Notification and Post Tsunami Rehabilitation in Tamil Nadu. ATREE-UNDP. 40 p.

Tripathy B. (2005) Status of the loggerhead turtle in India. Current Science Vol. 88(4): 535-536.
---
MEMBERSHIPS
Gladwin Joseph has been nominated as a member of Indian Council of Forestry Research & Education (ICFRE) Society, Dehradun for a period of two years with effect from April 2005. ICFRE is an autonomous society under the MoEF, GoI.
---
GRANTS RECEIVED
Sinu, P.A. received a grant of USD 966 from Royal Entomological Society, RES, London, towards attending 9th European Workshop on Insect Parasitoids (IX EWIP) at Cardiff University (5-9 September 2005) and the International Symposium on Insect Conservation Biology (ENTO 05) at Sussex University (12-14 September 2005).